About Us
Helping Underserved Youth in Our Community
"Whoever welcomes one of these children in my name welcomes me…" —Mark 9:37
The mission of Gifts For All God's Children is to be a conduit of God's generous love. We provide resources focusing on the needs of underserved children while connecting them to Jesus. We do this by encouraging churches and organizations to work together to support spiritual, academic, and social growth in these children.
The Vision of Gifts For All God's Children is a world where all children are thriving and connecting to Christ.
Our Core Values are based on the infallible Word of God – The Bible.
The Holy Spirit continues to speak to us and lead us to fulfill our Mission and Vision
through God's Living Word.
PRAYER: "Pray continually." I Thessalonians 5:17
COMPASSION: "Therefore, as God's chosen people, holy and dearly loved, cloth yourselves with kindness, humility, gentleness, and patience. . . And over all these virtues put on love, which binds them all together in perfect unity."
Colossians 3:12 & 14
INTEGRITY: "Finally, brothers and sisters, whatever is true, whatever is noble, whatever is right, whatever is pure, whatever is lovely, whatever is admirable– if anything is excellent or praiseworthy–think about such things." Philippians 4:8
SERVICE: "Each of you should use whatever gift you have received to serve others, as faithful stewards of God's grace in its various forms." 1 Peter 4:10
COLLABORATION: "And let us consider how we may spur one another on toward love and good deeds." Hebrews 10:24
In 1987, Gifts For All God's Children began at Faith Lutheran Church in Troy, Michigan as an advent ministry to aid underserved youth. That year, 187 children from 3 Detroit churches received Christmas gifts. This outreach has expanded due to a growing number of people in churches, private and public schools, organizations and businesses sponsoring children, making donations, or volunteering.
In December 2022 we were able to provide more than 2,650 children from 52 different sites with a total of 15,000 Christmas gifts. Since 1987, more than 80,156 children have been served! Along with the sponsors in churches, businesses and schools who purchased beautiful gifts, thousands of gifts were shopped for and wrapped at our "Christmas Workshop" in Rochester, MI. Large bags of gifts were distributed to the children at Christmas parties, after church services, or delivered to their homes.
GFAGC has, "sponsored hundreds, maybe even thousands of children, children who are homeless, living in our shelters, without the necessities and comforts the rest of the nation takes for granted."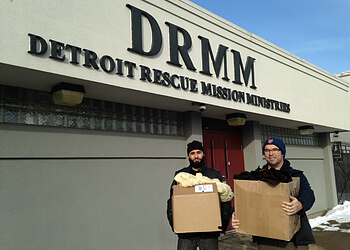 Dr. Chad Audi, President and CEO of Detroit Rescue Mission Ministries
Detroit, Michigan
For more than 20 years, Gifts For All God's Children has been blessing the Detroit Rescue Mission Ministries with love, compassion and generosity.
Over the years, Gifts for All God's Children has sponsored hundreds, if not thousands of children—children who are homeless, living in our shelters without the necessities and comforts that the rest of the nation takes for granted. They have given parties for our sheltered families, provided ministry luncheons and donated truckloads of baby supplies, furniture, clothing, and hygiene products. In addition to the time spent in our facilities and with our clients, Gifts for All God's Children routinely prays for us—our organization, clients and volunteers—and they respond to our requests and needs without hesitation, and for that, we are forever grateful.
"GFAGC HAS BEEN PROVEN EFFECTIVE BY TOUCHING THE LIVES OF OVER 80,000 CHILDREN IN THE PAST 35 YEARS…"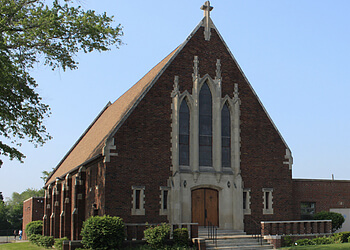 Pastor Asaph James, East Bethlehem Lutheran Church Detroit, Michigan
It has been my pleasure to serve as Chaplain for Gifts For All God's Children for the past ten years. This organization has blessed our church and neighborhood with special events that give Christmas gifts, holiday parties, summer ministry, and school supplies to children in the Detroit area who otherwise would not have gifts or the essentials for school and home. They do this while lifting up the person and name of Jesus Christ. Just as Jesus tells us, the laborers in His harvest field are few in number, but with His anointing and power of the Holy Spirit, few can be effective. Gifts For All God's Children has been proven effective by touching the lives of over 80,000 children in the past 35 years through gifts, events, and prayer. In fact, they have established an Adopt-a-Child Prayer program where prayer partners from many churches take the name and picture of a child and pray for them throughout the year. They pray for these children specifically and corporately as a weekly scripture verse and prayer is sent to each prayer warrior. Together with all the rest of the partners in prayer, they ask the Father that these little ones be joined to Christ and grow in the nurture and admonition of the Lord. This enables a child to receive a blessing in the natural and in the spirit. I am sure it blesses the Father as well. The leadership and congregation of East Bethlehem Lutheran Church truly appreciate the assistance by Gifts For All God's Children.
Pastor Asaph James
East Bethlehem Lutheran Church,
Detroit
GFAGC sponsors Adopt-a-Child programs for Christmas and prayer, the real basis for changing lives.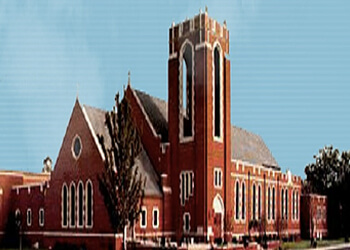 Dan Karlin, Retired Minister of Social Outreach, Trinity Lutheran Church
Utica, Michigan​
Gifts For All God's Children has been a growing ministry in southeastern Michigan for more than three decades now. Their ministry is primarily to children, but because children are such consumers of love, the love and care that Gifts For All God's Children shows to these little ones, actually supports the family as well. With the gifts that this ministry provides at Christmas and when school begins, GFAGC is actually assisting families, often single parent homes, with clothes, toys and school supplies that these children really need. GFAGC has provided food, clothes, hygiene items and life necessities for those in need. They also sponsor Adopt-A-Child programs for Christmas and for prayer, the real basis for changing lives. Throughout the year they stay in contact with those partner churches, praying for those children, inviting them and their families to other activities to keep them linked with a Christian peer group. It's my pleasure to support and partner with them.
Dan Karlin, Retired Minister of Social Outreach
Trinity Lutheran Church
Utica, Michigan
Children received Christmas gifts across 52 sites
Children received Easter bags across 29 sites
Children received school uniforms
Children received school supplies across 19 ministries
children attended 3 weeks of summer bible camp
children attended the A2E Sports Camp
children received birthday bags
students received tutoring either virtually or in person
906 Community Church, Gwinn
Acclaim Ministries, Detroit
Bethany Christian Services, Madison Heights
Bethany Lutheran Church, Detroit
Canfield Church of God, Detroit
Charity Lutheran Church, Detroit
Church of the Way the Truth & the Life, Detroit
Community Treehouse Center, Detroit
Crossbridge Mt. Hope Preschool, Allen Park
*Detroit Rescue Mission Ministries (DRMM)
Divine Restoration Ministries, Detroit
East Bethlehem Lutheran Church, Detroit
Epic, Shelby Township
Faith Clinic Church of God in Christ, Detroit
Franklin Avenue Mission, Flint
Gateway Church of the Nazarene, Detroit
Good News Gang, Detroit
Grace Church of the Nazarene, Detroit
Grace Lutheran Church, Gwinn
Hope Village, Detroit
House of Hope, Oxford
Lighthouse Outreach Center, Roseville
Maiden House Ministry, Detroit
Marion Law Academy, Detroit
Mended Hearts, Detroit
Messiah Church, Detroit
Mt. Calvary Lutheran Church, Detroit
My Virtual Academy, Clinton Township
Naci Mai, East Lansing
New Bethel Missionary Baptist Church, Detroit
New Covenant of Peace, Detroit
OLHSA – Grandparents Raising Grandchildren
Pan de Vida, Detroit
Pathway to Christ Ministry, Detroit
Peace Lutheran Church, Detroit
POBLO, Clinton Township
Power Company Kids Club, Pontiac/Detroit
Pure Word Missionary Baptist, Detroit
Salvation Army, Pontiac
Shadow of the Cross, Farmington Hills
St. John Lutheran Church & Headstart, Detroit
St. Paul Community Lutheran, Pontiac
St. Paul Lutheran, Flint
St. Philip Lutheran, Detroit
Talk & Pray About It, Livonia
Victory Outreach, Detroit
Wellspring Lutheran Services, Farmington Hills
York Avenue Mission, Flint
Your donations make a HUGE Impact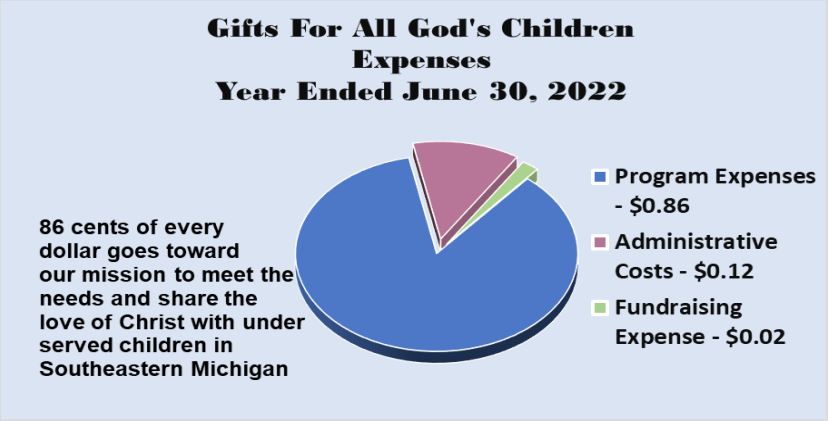 Dr. Ingrid Draper, Chairperson
Karen McClelland, Secretary
Willie Marie Henry, Member at large
Brad Flaaen, Member at large
Patti Jacques, Executive Director
Deborah Key, Member at Large