God is Good!
The year 2020 has been one of challenge for many of us. Adapting has become a way of life and change is ever-present. Some have thrived; others have not. Imagine if your entire life had been that way and the pandemic only served to magnify the challenges. "Going without" is, and has been, a way of life for the children and families served by GFAGC. It is only now that the deeper social, economic, health and environmental impacts have become more acute and more obvious. We hope in the pages of this report, you see that we are a caring and nimble organization that finds ways to respond to the need we see around us. We are not limited to a rigid format that limits our ability to serve and demonstrate the love of our Savior.
God has been so great to our organization and called us to serve so many children. We appreciate everyone who has contributed their time, talent, and treasure to support our organization and the children we serve.
The impact our supporters made during our 2019-2020 fiscal year was very impressive.
Our 2019-2020 Gratitude Report is now available. Interesting in viewing it and seeing your impact? Click on the image below to view our full report.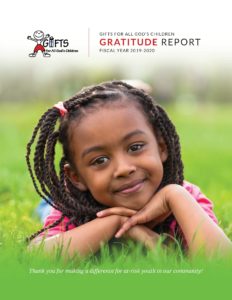 Thank you for your support and interest in our organization. If you are interested in assisting us and having an impact on the children in our community, please reach out to us on our contact page or consider making a donation.