What happens to underserved children when school is out for summer? Many lose access to school-provided meals, and they spend more time alone. That is where our summer ministry comes in! 
Gifts For All God's Children partners with organizations and churches to create a safe space where kids can have fun, build relationships, and experience God's love.  
Summers are always buzzing with activity, and this year was no exception! We hope you enjoy these heart warming stories of God's love. 
Field Trips
You might think field trips are school-exclusive activities, but we disagree! During July and August, we took children and their families on field trips. We went to Belle Isle State Park, St. Clair Metro Park, and DNR Outdoor Adventure Center. This was the first time many children in attendance visited these locations and had such an experience. 
Please enjoy this photo and story from a child who attended the field trip to the DNR Outdoor Adventure Center!

Wildwood Ranch
Wildwood Ranch is a camp that is part of the Detroit Rescue Missions Ministries (DRMM). It is located on 240 beautiful, wooded acres in Howell, MI. We partner with DRMM to provide full scholarships to children that attend our CKC Center.  
We spend hours helping parents/guardians fill out the extensive scholarship application. Then, once the child is accepted, we provide the necessary supplies, such as sleeping bags, beach towels, flashlights, and hygiene items (toothpaste, toothbrush, deodorant, shampoo, conditioner, etc.), and we even provide money for them to shop at the camp store.   
Of the campers in attendance, four children were returning, and five experienced Wildwood Ranch for the first time! The returning campers could not WAIT for camp to begin. Many new campers were just as excited by the prospect of new experiences.  
Wildwood Ranch is essential to our summer ministry because it lets us put God's love into action. We provide scholarships and necessary supplies while sharing real stories of God's love. 
Please enjoy this story from a child who attended Wildwood Ranch!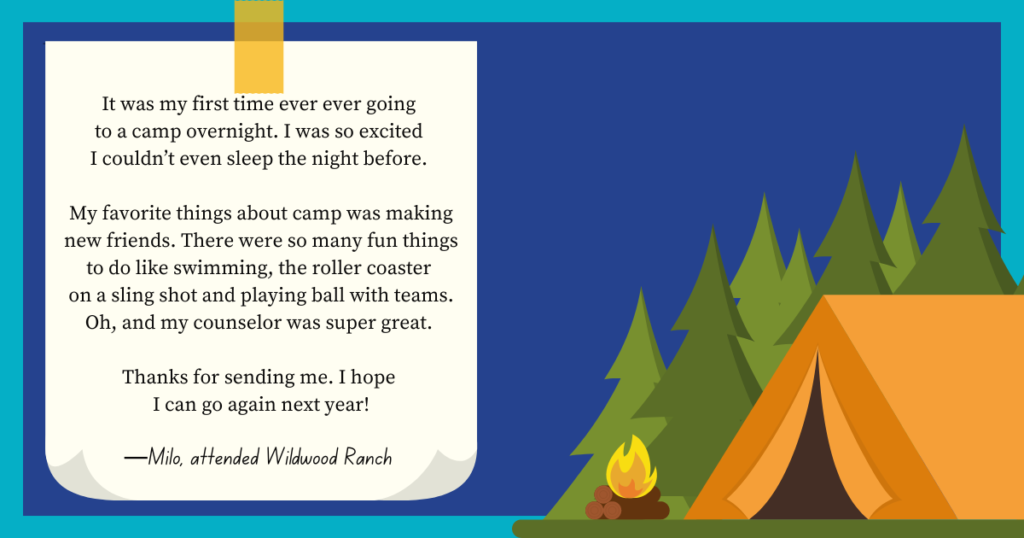 Gifts For All God's Children dedicates ourselves to being a conduit of God's generous love. Our summer ministry programs are no exception! If you want to join us in supporting underserved youth, we need CKC Tutors; click here to learn more.